3-in-1 Waist Trainer,Hip Lift Enhancer Thigh Slimmer Shaper Sweat Sauna Suit
Sale Price: $14.89

Retail Price: $59.99


3-in-1 Waist Trainer,Hip Lift Enhancer Thigh Slimmer Shaper Sweat Sauna Suit
Feature:
Premium Quality & Firm:The butt lifter waist trainer will not tear, will not be corroded by sweat.
Fixed on your legs:The strap around the waist provides great support when you working out and will not move easily.
Multi-Purpose:The Waist and Thigh trimmer can be used every day in various activities in your daily life, such as walking, biking, fitness, yoga, playing ball, hanging out at home, or even doing yard work.
Increasing Sweat: The Waist and Thigh trainer can make you sweat 3 times more, get rid of the stubborn fat in the belly and inner thigh, and lose weight faster.
Achieved Hourglass Figure:The thigh trimmer can not only lift the buttocks but also help increase blood flow, relieve muscle pain around the thigh, butt, and waist.
Latex-Free Neoprene Material:Made with Extra Thick,increases thermogenic activity to sweat more and get Sculpted.
High waist design:provide target compression which you can slim your waist and your thigh, lift your hips at the same time.
Specification:
Everyone can find the right choice, please measure waistline and read our size chart, if you are between 2 sizes, we recommend you choose the larger size.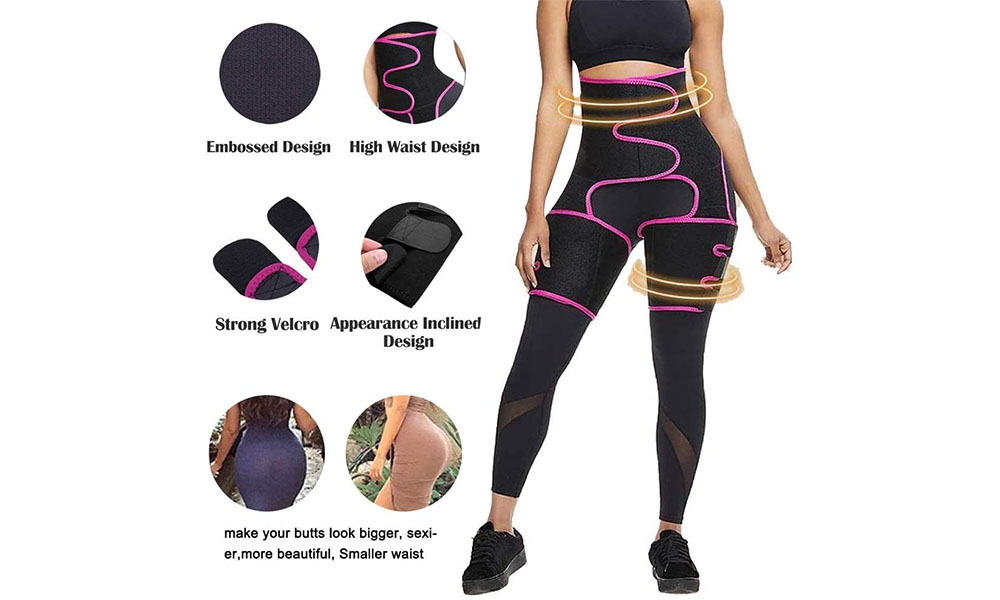 Size Chart(Inch):
If your hip shape is Wider between (Straighter, Average, Wider), we recommend you a larger size.
If your belly shape is Curvier between(Flatter, Average, Curvier), we recommend you a larger size.
Please consider your fit preference between (Tight, Slighty Tight, Average, Slightly Loose, Loose) and choose the right size.
---
3-in-1 Waist Trainer,Hip Lift Enhancer Thigh Slimmer Shaper Sweat Sauna Suit Yellow S/M (Waist Belt 35.4",Thigh Belt 20.47", Waist & Thigh 4.7")
Fabric/Material: 100%Neoprene
Care Instructions: Hand Wash
Sizing Chart: Custom
Dimensions: 1.0 inches (H) x 1.0 inches (W) x 1.0 inches (L)
Weight: 1.0 ounces
3-in-1 Waist Trainer,Hip Lift Enhancer Thigh Slimmer Shaper Sweat Sauna Suit Yellow L/XL(Waist Belt 36.6",Thigh Belt 22.4", Waist & Thigh 4.7")
Fabric/Material: 100%Neoprene
Care Instructions: Hand Wash
Sizing Chart: Custom
Dimensions: 1.0 inches (H) x 1.0 inches (W) x 1.0 inches (L)
Weight: 1.0 ounces
3-in-1 Waist Trainer,Hip Lift Enhancer Thigh Slimmer Shaper Sweat Sauna Suit Yellow 2XL/3XL(Waist Belt 38.2",Thigh Belt 22.4", Waist & Thigh 4.7")
Fabric/Material: 100%Neoprene
Care Instructions: Hand Wash
Sizing Chart: Custom
Dimensions: 1.0 inches (H) x 1.0 inches (W) x 1.0 inches (L)
Weight: 1.0 ounces